WINTER IN MIDLAND TEXAS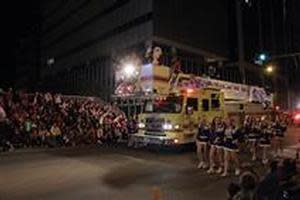 Brighten up your Winter with a weekend getaway to Midland. Check out the events and Midland hotel deals! There are an abundance of events in Midland, TX this winter.
Winter is upon us. Windows are filled with warm lights and steaming hot chocolate as friends and family gather to celebrate another joyful year. The Museum of the Southwest is brightly decorated in anticipation of Christmas at the Mansion, this year with a special "Merry Christmas, Charlie Brown" exhibit from the Charles M. Schulz Museum. The Midland Festival Ballet is once again pairing up with the Midland-Odessa Symphony & Chorale to present The Nutcracker. Visitors can actually see Peter Pan fly at Midland Community Theatre's presentation of Peter Pan! And once again, travelers enjoy spicy enchiladas at Cancun Bar & Grill downtown while gazing at the giant lighted Christmas tree in Centennial Plaza.
There is an abundance of events in Midland this winter. To plan your weekend getaway, check out all of the upcoming Midland, TX events, Midland, TX hotel rates, Midland, TX attractions, and much more! Happy Winter