MIDLAND SIGNATURE COCKTAIL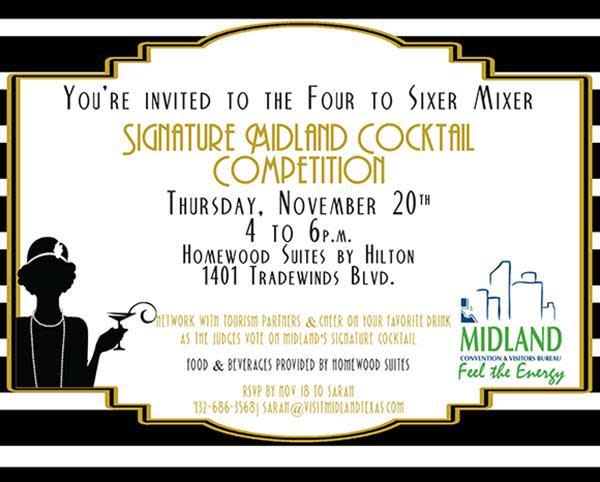 Dear Midland Restaurateurs, Bar Owners, and Mixologists:
The Midland Convention & Visitors Bureau (CVB) is challenging our Midland partners to create a Signature Midland Cocktail  that we can promote to our visitors. The Midland CVB works to market and enhance unique Midland experiences to event planners and visitors to bring more direct visitor spending to our community. We plan to feature this signature drink in our Midland Destination Planning Guide, in specific visitor group welcome bags, and to offer the recipe and signage to event planners. The purpose of this is to provide an enhanced, packaged visitor experience in Midland, and leave a lasting impression.
The Signature Midland Cocktail Competition will be held at the CVB Four to Sixer Mixer on Thursday, November 20, 4 to 6 p.m., at the Homewood Suites, 1401 Tradewinds Blvd. Tourism Partners and community businesses are invited to attend and watch the competition unfold, so be prepared to wow the audience with your creativity.
We invite all Midland mixologists to enter the competition. To enter, please submit entry form to Sarah Marston, Communications/Sales Manager, before Tuesday, November 18. Community leaders and employees of the Midland hospitality industry will judge the drinks.
Contestants will need to bring all necessary ingredients to make eight 4 oz. judges' drinks, and 30 1 oz. samples. You will also need to print the recipe on 8.5" x 11" paper and bring in a standing frame.
Drinks will be judged by: taste; connection/representation of Midland, creativity of drink name; appearance; ease of creation. The winner will be promoted with the drink (example: XYZ Drink, created by name, company name). We hope to see you on November 20—and good luck!
For questions on the Signature Midland Cocktail Competition, please contact Sarah Marston (432) 686-3568.
Please drink responsibly.