Tip back a cocktail in a fashionable bar, browse stylish shops, and find the ideal spot for your next outdoor picnic. This could your perfect day in Downtown Midland, the trendy beating heart of The Tall City. Whether you're admiring murals, tasting luscious pizzas, or playing a game of chess in a park, you'll find no end to what this part of town has to offer. Before you head out this way to experience Downtown Midland for yourself, read on to discover some of the possibilities.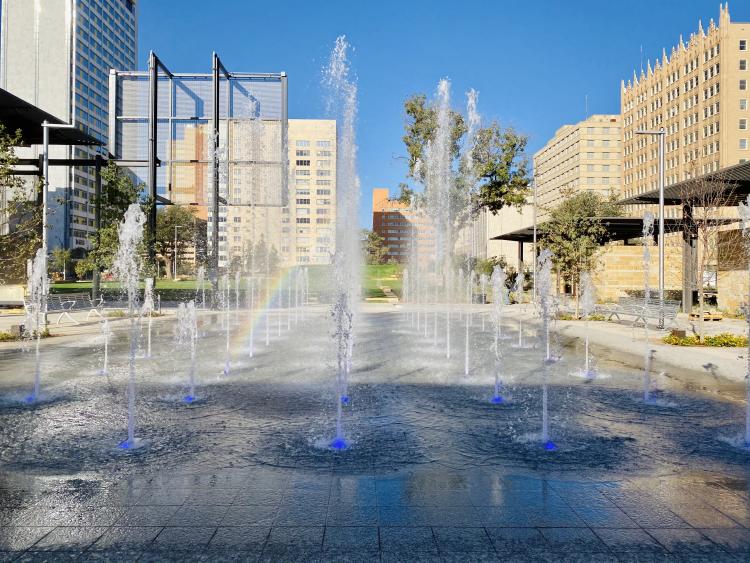 Centennial Park is the Perfect Hangout Spot
Set in the heart of Downtown Midland, Centennial Park is a true urban oasis. Roll out a blanket and soak up the sun (or take an outdoor fitness class) on the Great Lawn. Get something tasty from any of the nearby restaurants and savor a picnic on the café-style tables on the North and South promenades and The Grove, which takes on a romantic ambiance at night as it's illuminated by an abundance of string lights. Bring your chess or checker set to the South Promenade and you can play a few rounds on the granite game tables, or let your kids run wild on the natural playground or the splash pad (in the summer). Traveling with your best furry friend? You won't need to leave them behind when you come to Centennial Park, as there's a dog park here as well. Fully fenced in, this is the perfect space to have your dog roam, play, and socialize.
No visit to Downtown Midland is complete without spending some time in Centennial Park. Good thing it's right in the middle of it all.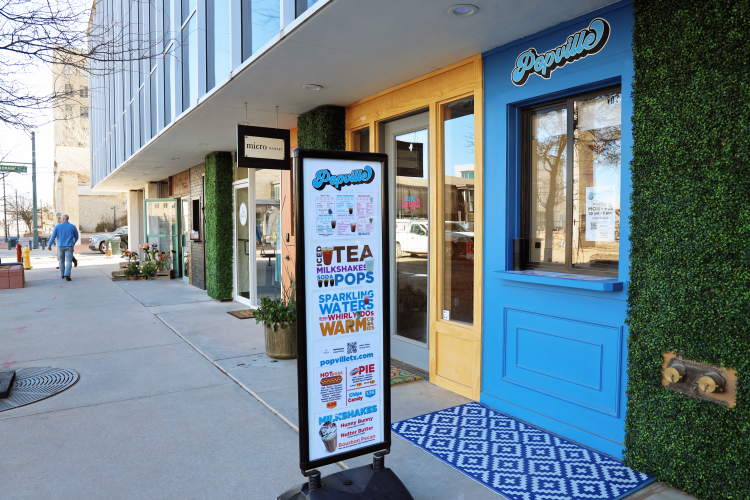 The Midland Micro Market Makes Shopping Local a Breeze
No matter where you are, it's always fun to shop locally. Yet the Midland Micro Market provides a shopping experience you won't find elsewhere. With 10 stores, the market adds a new meaning to "window shopping." Start your day with a hot or iced café mocha or latte at Cpl. Rays Coffee before browsing Coco Bananas Boutique and Four Dolls Boutique's curated collections of fashionable accessories and clothing.
Once you start feeling thirsty again, step on over to Popville for a refreshing specialty soda as large as 44 ounces or a jumbo-sized milkshake made with your choice of 20 choices of ice cream. Burn off those calories as you stroll around Centennial Park and, later in the afternoon, set out for Lo. St. Books, one of Micro Market's newest additions. Get a glass of wine and pick a book off the shelf before you settle into a cozy leather couch. If you like what you're reading, you can take it home with you; all books are available for purchase.
Of course, there are many more things to see and savor at the Midland Micro Market, so make sure to come again.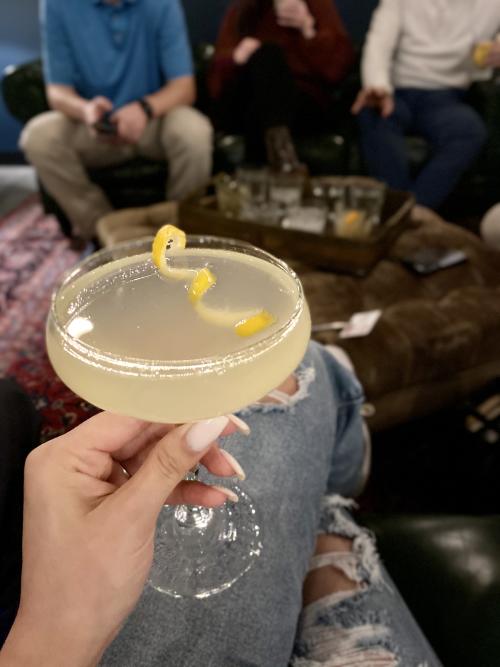 The Basement at Opal's Table Offers Unique Drinks & Rustic Charm
Step into The Basement at Opal's Table and the first thing you'll probably see is the bar. Covered in countless gin, rum, and whiskey bottles set under a mounted buck's head, the bar tells you everything you need to know about the place. Specializing in one-of-a-kind cocktails and resplendent in West Texas charm, the bar is a stylish spot to hang out for an evening. The drink menu here includes an impressive array of spirits along with a globe-spanning selection of red and white wines, all of which you can savor as you admire the rustic décor from your vintage-looking leather couch.
You'll want to bring your appetite as well, as The Basement has everything from crispy brussel sprouts and truffle fries to mouthwatering prime filet steaks and roasted salmon. The Basement also has a ventilated cigar lounge, the perfect backdrop whether you're celebrating something or just enjoying a night out in Midland.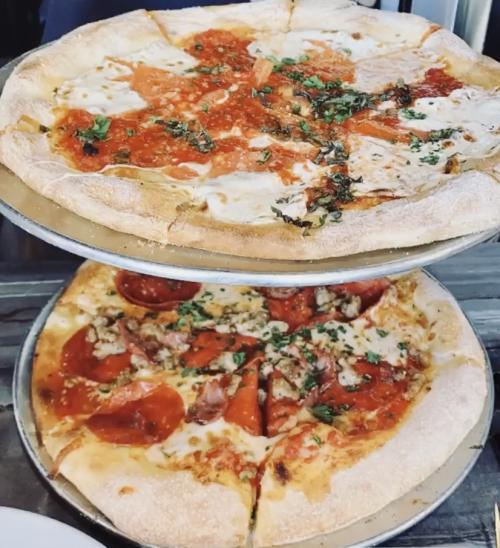 Pi Social is a Must for Pizza Lovers
Pizza is no doubt ubiquitous, but the delectably creative Neapolitan pies at Pi Social stand above the rest. Here, the pizzas are topped with ingredients like fig jam, roasted garlic and kale, and even wagyu beef, giving you the chance to try something new. If you're feeling adventurous, try the Honey Bastard, a pie topped with mozzarella, sopressata, bacon marmalade, and honey. Of course, the eatery also has the classics (like cheese and pepperoni pizzas), and you can even get a cauliflower crust if gluten-free is your way to be. Beyond the pies, Pi Social has a large, curved bar that serves "Prohibition-style" drinks crafted with fresh-pressed juices. Savor your pizza and cocktail as you take in the stylish atmosphere imbued with an abundance of industrial charm and you'll know you're in the right place.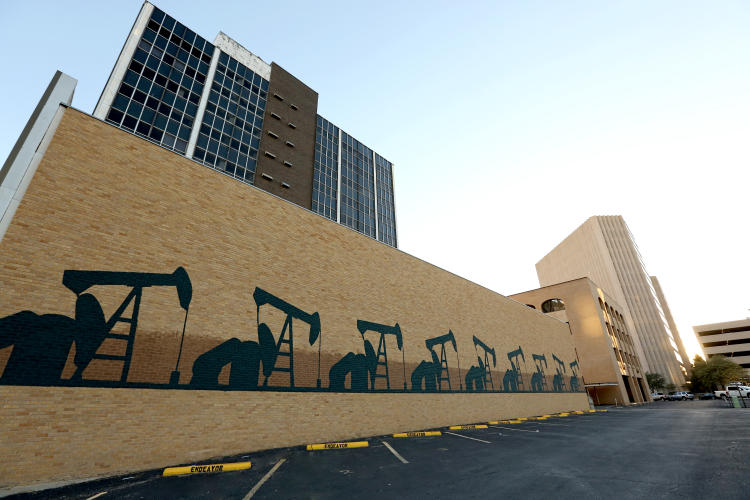 Hunting for Midland's Murals is an Inspiring Adventure
Hang out in Downtown Midland long enough and you'll surely encounter one of its several magnificent murals that transform this part of the city into an outdoor art gallery. Vast in scale and vibrant in color, each of the downtown area's impressive works is well worth seeing for yourself. There's no better place to start than the Midland County Library, where the exterior walls have all been transformed into one mural featuring photorealistic flowers and elements of Vincent Van Gogh's Starry Night. Meanwhile, Greetings from Midland evokes the old-fashioned "Greetings From" postcards popular in the 1930s, 40s, and 50s, and the Oil Rigs Mural features a row of pumpjacks that highlights Midland's role as a major oil city.
These are just a few of downtown Midland's murals. See the others here, then visit so you can appreciate them for yourself.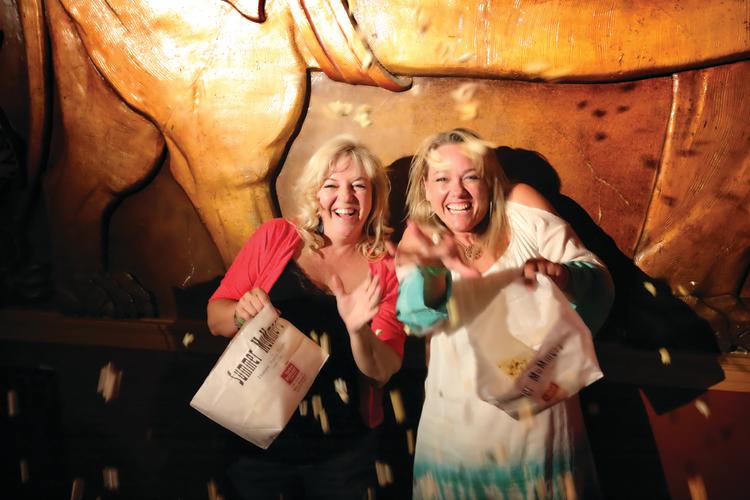 Summer Mummers is a Tradition Like No Other
To borrow an old phrase, you can't have your popcorn and throw it too. Unless you're at a Summer Mummers performance. A long-standing theatrical experience, this Permian Basin tradition is a show like no other. Conducted by the Midland Community Theatre in the historic Yucca Theatre, the internationally renowned melodrama is a lively production featuring dancing, singing, and a Texas-sized serving of humor. Once the intermission hits, you'll find yourself in the middle of a food fight. Get your popcorn and toss it all around; just don't be surprised if you find it everywhere on you once the show returns. Truly one of a kind, Summer Mummers is not just a stage production, it's an experience all its own.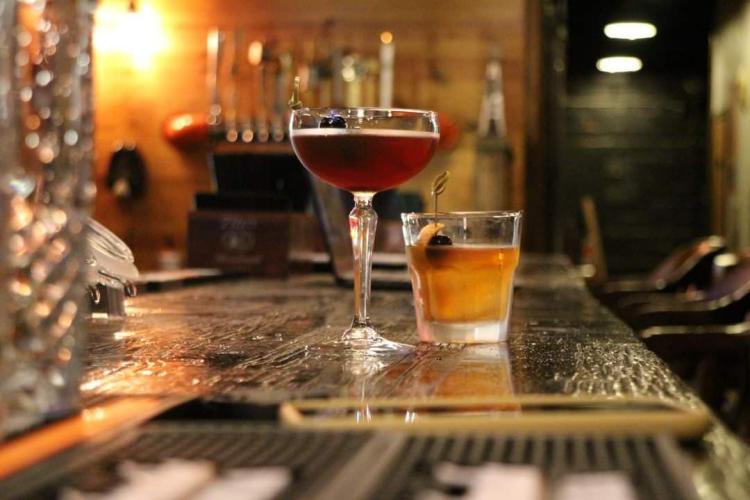 You Can Sip & Savor One-of-a-Kind Cocktails
There's nothing better than a well-crafted cocktail, especially if it's one you haven't tried before. That's where The Buffalo Nickel comes in. With a menu full of unique beverages, like the Key Lime Pie Martini, you'll find plenty of options perfect for teasing your palate. Although you have a lot of choices, you'll want to try the Buffalo Nickel Old Fashioned, a concoction made with bourbon and bitters, spiced with orange peel, maple syrup, and luxardo cherry, and smoked with applewood chips.
 You can also pick from a long list of inventive margaritas, as well as red and white wines and 18 beers on tap. Get your drink of choice and stop by the humidor for a cigar that you can savor on the back patio. Make sure you're here on Friday nights, when the bar hosts some of the Permian Basin's best and brightest musicians. Photo Credit: Owen McGrath
With its unique bars, shops, and eateries, Downtown Midland is a great place to enjoy the finer things in life. Discover all that Midland has to offer, and plan your visit to The Tall City, here.