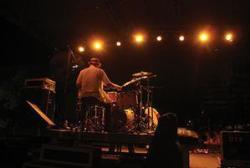 Press Release - For Immediate Release
Midland, Texas (Nov. 20, 2015) — Earlier this week, Tall City Blues Fest announced that its 2016 Fest will take place in downtown Midland's Centennial Plaza on July 8-9, 2016.
"We've had many inquiries as to the location of the 2016 Fest due to the current demolition of the courthouse and future construction plans in Centennial Plaza. With the help of elected officials and the City of Midland, we have been able to successfully negotiate the 2016 Fest to take place downtown in between construction and renovation phases", said Lisa Grissom, producer of Tall City Blues Fest.
The Fest, will however, be temporarily displaced in 2017 while Centennial Plaza is under reconstruction and then plans to be back downtown in 2018 to a newly renovated Centennial Plaza.
"We are currently evaluating alternate venues for 2017 where we can maintain the brand integrity and experience that our patrons expect at Tall City Blues Fest," said Grissom. "The good news is that we already know this far in advance that we will be temporarily displaced in 2017 and it will only be for one year."
ABOUT TALL CITY BLUES FEST
Tall City Blues Fest, held in downtown Midland, TX Centennial Plaza, will take place July 8-9, 2016. The Fest is a multi-stage blues music festival hosting award-winning performers across multiple stages. Other activities include educational workshops in partnership with Midland College, a juried silent art auction, midnight spectator jam and a Sunday Gospel Brunch, presented by Macedonia Baptist Church.
The mission of the Midland, Texas Convention & Visitors Bureau (CVB) is to encourage economic growth by developing, promoting, enhancing and supporting Midland as a vibrant visitor destination. 
The above information has been provided by Tall City Blues Fest and distributed by the Midland Convention & Visitors Bureau.