PRESS RELEASE
For Immediate Release
For more information and to schedule an interview, contact:
Michael Price, (432) 853‐9453 mprice@i20wildlifepreserve.org
The I‐20 Wildlife Preserve and Jenna Welch Nature Study Center is proud to announce the Grand Opening of the Salehi‐Olguin Butterfly Garden. The grand opening will be commemorated by a ceremonial ribbon cutting, and will be held in conjunction with the annual Blooms & Butterflies – Flower Your Mom with Love event.
The public is invited to join us for this celebrated event to participate in family‐fun events such as face‐painting and flower pot painting on Saturday, May 10th from 10 a.m. to 1 p.m. The festivities will be held at the Merritt Pavilion, on the grounds of the I‐20 Wildlife Preserve, located at 2201 S. Midland Drive. The official ribbon‐cutting will take place at 11 a.m.
During this past year, approximately 20,000 individuals have enjoyed the urban playa with its trail system covering over three miles, providing bird blinds, and a 24‐feet tall Hawk Observation Deck to enhance the playa lake experience for visitors. Depending on the season and the rainfall, a large variety of birds, mammals, flowers and fauna inhabit the playa.
If you'd like more information about this topic, or to schedule an interview, please contact Executive Director Michael Price at (432) 853‐9453 or email Michael at   mprice@i20wildlifepreserve.org.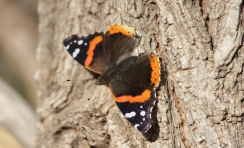 The above information has been provided by the I‐20 Wildlife Preserve and distributed by the Midland Convention & Visitors Bureau. The mission of the Midland Convention & Visitors Bureau is to encourage economic growth by developing, promoting, enhancing and supporting Midland as a vibrant visitor destination.